FAQs
7 MIN READ
Summary: Frequently asked questions, answered.
---
Table of Contents
---
1. Wix
A regularly curated list of the most commonly asked questions by customers on Wix.
1. Do you offer refunds?
    Wix is in charge of payments and refunds for any App you install using their platform. Please contact them directly at https://www.wix.com/contact/en if you need to ask for a refund.

---
2. Weebly
A regularly curated list of the most commonly asked questions by customers on Weebly.
1. When I try to install an application from the App Center I get this message: This user_id does not have permission to install this app. Why?
  The App Center is currently not available for Education Accounts on Weebly. A solution is to use our apps directly on Widgetic.com and embed them in your Weebly page directly. Read more about this in the Community Forum here: https://community.weebly.com/t5/App-Center/This-user-id-does-not-have-permission-to-install-this-app/td-p/26213.

2. Can I use your app across multiple sites, as many times as needed?
  Yes. When you upgrade to Premium, all features of an app become available for every instance of the app.

  This means you have to install the app on each website you plan to use it, for the same user account. The unlocked premium features will be available after install, with no extra cost.  

3. How can I use an app design across multiple pages?
  After you designed a theme that you like, you can copy the app to other pages. Doing this will allow you to use the same theme, even if you change the content for each instance of the app.

  To copy the app to another page, click the arrow on the top left right that shows on hover. Next, select the COPY tab and choose the page where you want to copy the app to.


4. How many GB of storage are available on the Premium Plan?
  The Premium Plan offers 10GB of storage per app, across all instances and websites where the app is used. The free plan offers 1GB.

  Example: If you use an app on 3 websites, across different pages, your content counts towards the total 10GB storage available.

5. Can I get a receipt for my payments?
  We can send you an email with a receipt for every payment you make. Turn this on by going to My Account and checking the box below Email Notifications.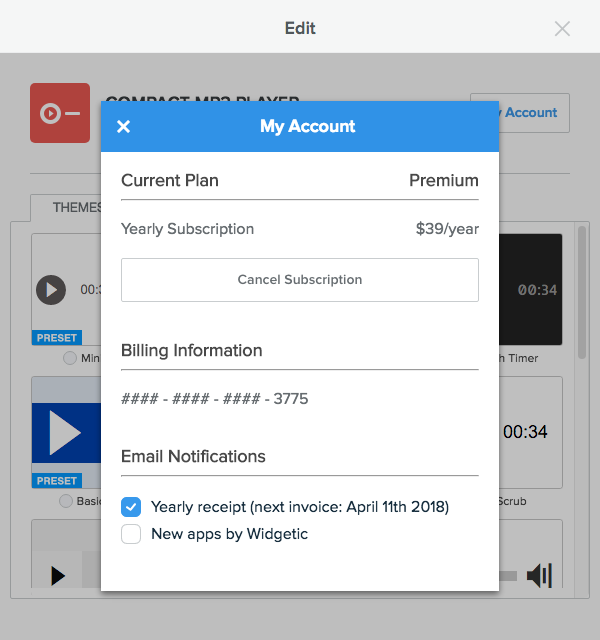 6. How can I center an app?
  Weebly doesn't make it easy to position apps with precision. For this reason we recommend Column Lock, a free app you can use for a better alignment of elements in your pages.

  Use this app to add columns and position other apps in these columns. Download it here: https://www.weebly.com/ca/app-center/column-lock.

  Hint: hold down the SHIFT key to resize columns to your needs.


7. How do I reorder items?
  Go to the Content tab in the Editor. Here you can add content items and also change their order. To change the order of items you can hover the Item # and an icon will display. Click and drag this icon down to move the selected item to another position.

8. How can I change the background color?
  Sometimes you want your app to have the same background color as your website. Go to the Design tab in the Editor. Here you can adjust the theme layout of your app.

  The easiest way to do it is to click the circle on the right of the hexa code (#ffffff in the image below). This will open a modal where you can edit the color and the transparency of the color.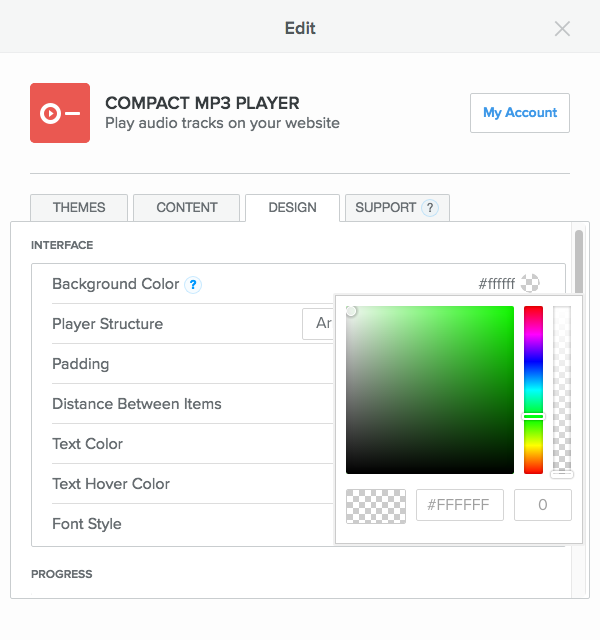 9. How can I cancel my subscription?
  To cancel your subscription you have 2 options:

  Option 1) Go to My Account and under Current Plan click the Cancel Subscription button.

  This will cancel your Premium subscription, while maintaining the app on your websites. This means you won't be charged again and your app will go back to the free plan.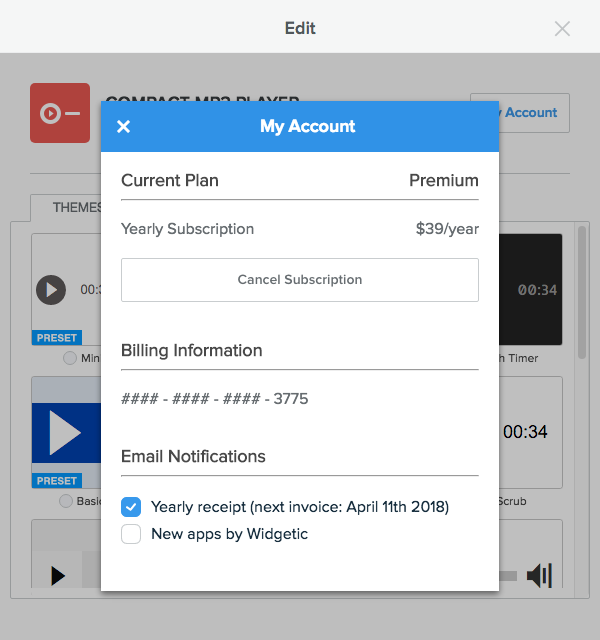 Option 2) Delete the app from your Weebly account. This will remove the app from all your pages as well as downgrade the subscription.

  To remove the app go to Settings > My Apps and find the app you want to remove. Click on the three dots and select Remove App.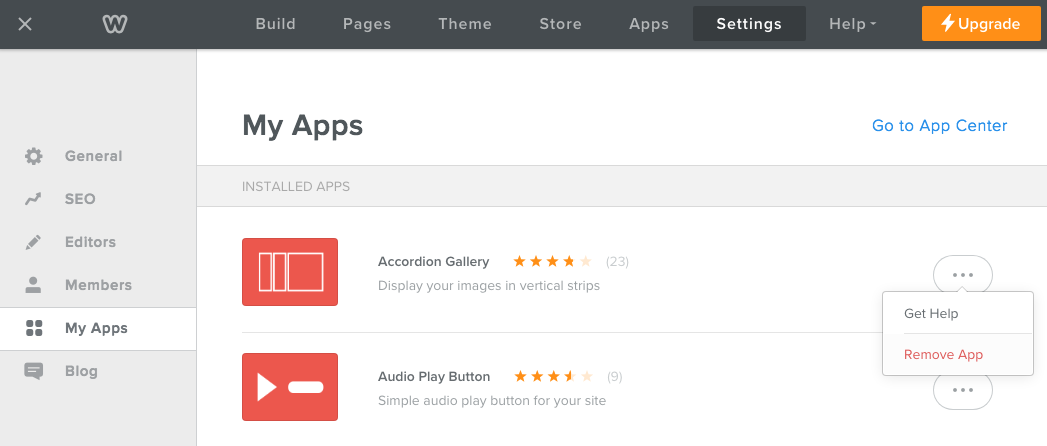 10. After removing your app from my site will I still be charged going forward?
   You need to remove it from Settings > My Apps where all apps you installed are listed. Once this is done your subscription is canceled, preventing any future charges.

11. My account automatically feeds my personal Instagram. Can I select a different Instagram account?
  Yes, you need to sign-out on Instagram.com. Then you can go to our App's Editor on Weebly and connect to Instagram using a different account.

12. Your Facebook Likes app doesn't show. Why?
  There are a few possible reasons:

    a) Make sure you used a valid URL or the URL of an existing Facebook Page (and not a user profile page).

    b) Make sure you are not blocking cookies from outside the Weebly website.

    c) Check if you have AdBlocker installed and if it blocks social accounts.

    d) Make sure you don't have a Chrome extension that's blocking social sites.

    e) There might be some settings you need to configure on your Facebook Page. To determine if that's the case go to this page https://developers.facebook.com/docs/plugins/page-plugin and use the same URL you put in our Editor. If it doesn't show you anything it means you need to check these settings in your Facebook page:

    - Log into Facebook as an administrator of your Facebook Page. Click on "Edit Page" located at the top in the Admin Panel, then click on "Edit Settings". Then, on the Settings page find the field titled "Country Restrictions". You need to make certain there are NO COUNTRIES LISTED in this setting. If your page is restricted to "United States", you need to remove that and re-save the settings. After removing all countries your widget should appear on your website.

    - Check if you have an age restriction set to 18 years +. Removing this should allow it to work.

13. Can I change the image that is displayed on Facebook when my page is shared through the Facebook Likes app?
  Yes, you can customize what is shared on Facebook by following this guide https://www.facebook.com/help/community/question/?id=10200814000150949.

14. When people like my page, the likes go to a different page than mine. Why?
  Please make sure you change the demo content with your own link in the Content tab, in the Editor. Once this is done, every Like will go towards the URL you used.

15. The Facebook Likes app isn't coming up with all the profile pics of people who liked the page. Why?
  The Facebook Likes app will display photos of people who liked a page if they are in your list of friends.

16. The Facebook Likes app doesn't show the right number of likes. Why?
  Please replace the demo URL with your own in the Content tab.

---
3. Shopify
There are currently no questions that we get asked frequently by customers on Shopify.
---
Further Reading
---
Have more questions? Contact a human at support@widgetic.com.